AiCode© The intelligent medical coding platform powered by Artificial Intelligence #AI
Leap to the future of AI assisted clinical coding with AiCode. Convert all forms and formats of medical charts to the accurate codes in seconds. Save coding time, improve accuracy, and unlock billing opportunities; NOW.
See How
I'm AiCode, your new smart coding buddy. Here is how I work to help you achieve a faster and more accurate coding

Medical charts input
I'm versatile enough to accept any kind of medical information as input including: clinical charts, medical records, doctor notes, progress notes, nurses notes, discharge summary, laboratory reports, and radiology reports. I can also take many formats including: text, PDF, images, scanned files, Excel, CSV

Smart coding engine
I understand the input information using propitiatory AI models (Natural Language Processing and Understanding) to recognize clinically important keywords, abbreviations, phrases, sentiments, topics, and relations. I'll convert all of these to medical codes

Medical codes output
In seconds, I'll provide the accurate medical codes for diagnoses, procedures, tests, and medications. I'm the ONLY AI out there that is trained to suggest codes for ICD10-CM, ICD10-AM, Saudi Billing Codes, CPT, ACHI, RxNorm, Saudi FDA codes, and DRG instantaneously.
Enterprise Business
If you are representing an organization and need our sales engineer to take care of you, book a time slot NOW.
Book a demo
Individual medical coder
If you are an individual coder and would like to start your FREE trial period, subscribe NOW
Subscribe Now
+300 medical coders are proudly using AiCode, here is why they do
36%
Reduction in the medical coding time per chart with immediate leap in the productivity versus manual coding or using computer-assisted coding (CAC)
28%
Improvement in the accuracy of medical coding and billing using the real-time concurrent medical coding and auditing system to verify all medical claims proactively
1-6 seconds
Is the processing time for any kind of standard patient encounter, no matter the complexity or length
+790,000
Medical terms, keywords, and medical abbreviations are recognized currently by AiCode including mis- spelled phrases
Medical coding made easy
Get the best coding outcome for inpatients as well as outpatient services. AiCode alerts the medical coders to both potential coding pitfalls and opportunities to improve productivity, accuracy, reconciliation and compliance..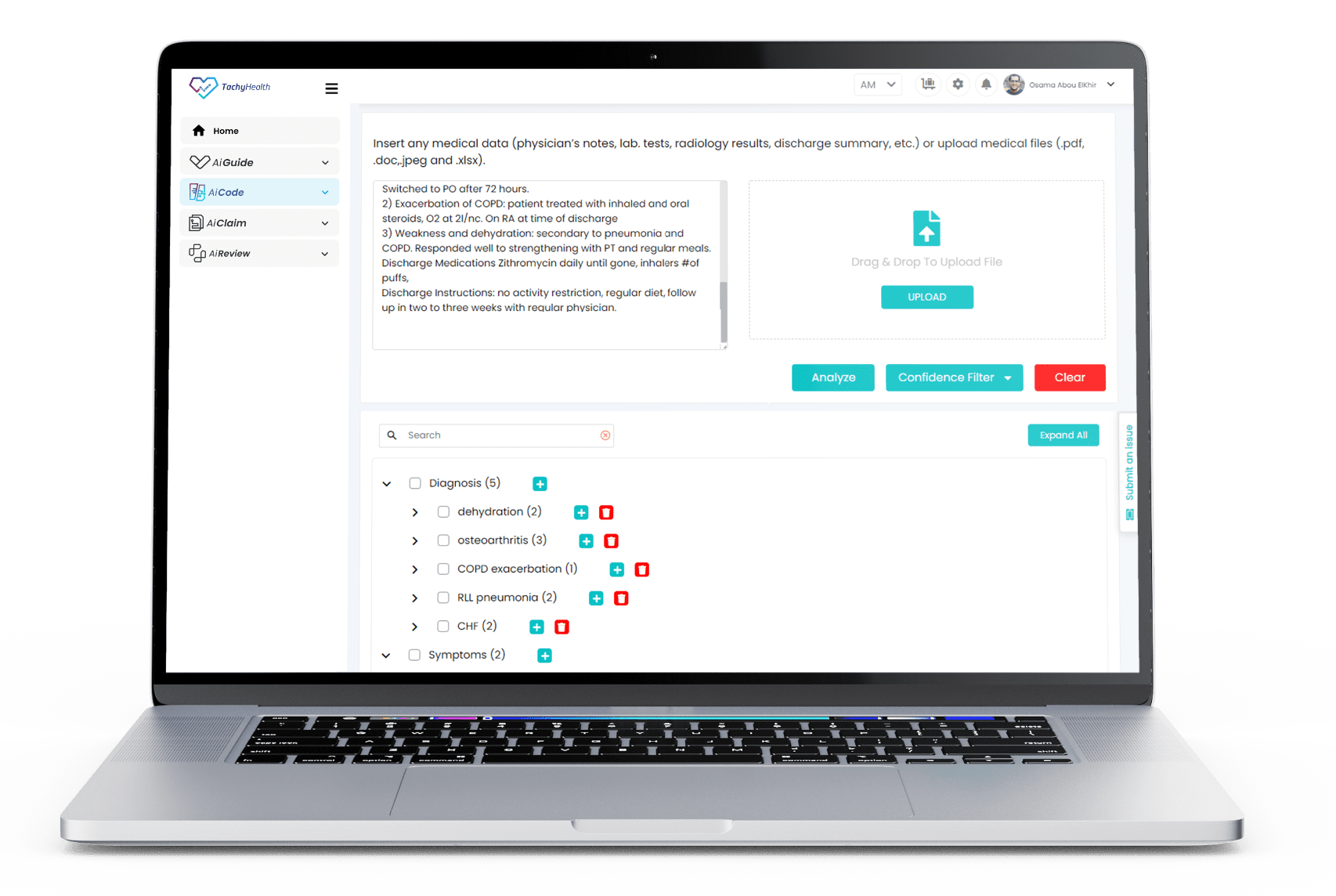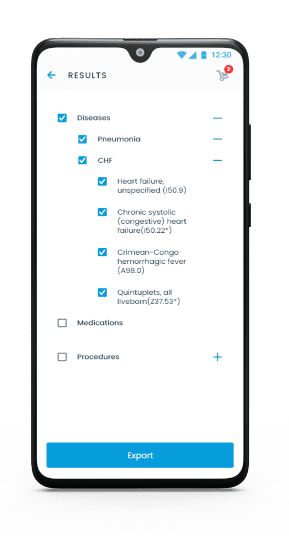 Key Features
Evidence-Based
Powered by international medical guidelines and coding standards
EMR /EHR
works independently or on-top of hospital's electronic medical record systems
Accessible
from any mobile, table or PC with an internet connection anywhere
Cloud-Based
capable of working with different workflows with no infrastructure needs
Data Security & Confidentiality
data is managed with the highest levels of privacy and encryption
Frictionless Experience
easy-to-use, doctor friendly and intuitive interface
Country-Specific Localization
for coding and financial rules, to support doctors with rapidly changing updates
Frequently Asked Questions about AiCode
The natural language processing (NLP) cognitive algorithms understand Clinical Procedure Terminology CPT®, International Coding of Diseases (ICD-10) for Clinical Modification (ICD-CM) and Australian Modifications (ICD-AM), Disease Related Groups (DRG) codes, National Drug Code (NDC). We're adding more coding formats with each release.
AiCode can work to receive asynchronous medical data from the hospital electronic medical / health record systems (EHR / EMR), populated coding data from EHR/EMR, assists with the professional coding work, and sends the final codes back to the EHR / EMR or the billing system in an automated manner. The EHR may then forward the data onto the billing system for final billing. All of this is done using highly secure HL7 health data exchange protocols.
AiCode is accessed using Software as a Service (SaaS) licensed on a monthly or yearly subscription basis that is blending all training, services, maintenance, and standard service level agreement (SLA).
AiCode was designed to work on the cloud using Microsoft Azure cloud services. On-prem solution can also be offered with additional setup.
The end-user experience was designed using Frictionless Customer Experience (FCX) to minimize the human interaction with the system while automating many parts of the medical coding workflow giving rise to seamless and easy to use experience. In our experience, it takes 1-3 days to understand everything about AiCode.
As of today, AiCode works on computerized information in any sort or any kind including the scanned documents through an embedded advanced OCR system. The handwritten records are not yet part of the solution.